★ Subscribe Today So You Don't Miss An Episode ★
Ep. 014 Robert Kiyosaki Interview - On Fake Money, Fake Teachers and Fake Assets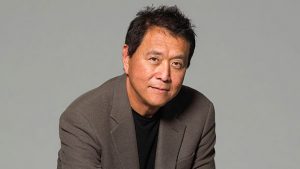 In this episode, I talk with Rich Dad Poor Dad author Robert Kiyosaki cryptocurrency and how it fits into his view of the world, which he will be expanding on in his new book, coming out this Fall, called Fake: Fake Money, Fake Teachers and Fake Assets.
And by the way, a couple of time in this interview, you'll hear Robert refer to me as Kim Snider. Snider is my maiden name. Hughes is my married name, just in case you are wondering …
Download audio file by clicking icon above
Financial advisors tell you not to invest in gold… It's risky. Don't invest in real estate… It's risky. Don't invest in Bitcoin… It's risky. The reason they tell you that is they don't get any commissions from gold, real estate and Bitcoin.
— Robert Kiyosaki
How To Leave a Review For The SANE CRYPTO Podcast:
1. Click ⇒ this link
2. When iTunes opens, click the Write A Review button (see below).